TRIAD ORTHODONTICS - GREENSBORO
Braces, Clear Aligners, and Orthodontic Care
---
Our Greensboro orthodontics office is located just South off I-40 at the intersection of Guilford College & Hornaday Rd. in the Gate City Commons shopping center near the Wendover Place Mall.
Monday-Friday: 8am - 5pm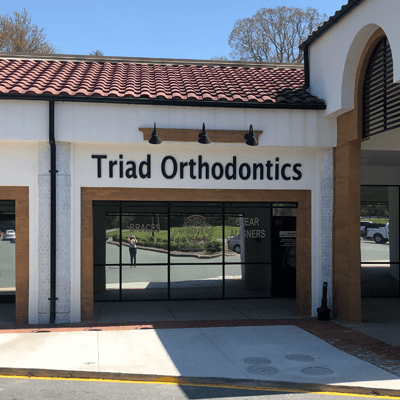 ---
Welcome to Triad Orthodontics in Greensboro!
Our orthodontics team in Greensboro is here to make your visit as pleasant as possible. We are committed to helping patients of all ages have the smile they always wanted and feel confident about. We offer a variety of orthodontic treatment options to fit your needs, as well as various financial options to ensure every patient gets the orthodontic care they need.
Orthodontic Services
Our award-winning Guilford College orthodontics office in Greensboro is dedicated to bringing you the smile you want. Start with a free orthodontic consultation to see which treatment option suits your individual needs, including:
Finding Us
From College Hill/Downtown

- Via Wendover Ave/I-40


Head West leaving College Hill using either W Wendover or W Gate City Blvd. Take I-40 West until you reach exit 213 at Guilford College Rd. Turn left on Guilford College Rd, crossing the I-40 overpass. The next traffic light is Hornaday Rd, take a Right on Hornaday and a quick Right at Nicholas Rd. Turn left into the Gate City Commons on the corner and a quick left into the front of the building where our Triad Kids Dental office is located.
From The North

- Via I-840

Take I-840 headed West towards Piedmont Triad International Airport. Take Exit 103B I-40 East towards Greensboro staying to the right. Take the first exit, Exit-213 for Guilford College Rd, and get into the middle lane to turn left. Turn Left on Guilford College Rd, at the first intersection, turn Right onto Hornaday Rd. Make a another quick right onto Nicholas Rd and Left into the Gate City Commons office complex. Triad Kids dental is the first office facing Nicholas Rd.
From the South

- Via Guilford College Rd

Head North on Guilford College Rd towards the Piedmont Triad International Airport. Once you go through the I-73/US-421 overpass, you'll drive just short of a mile until you reach Hornaday Rd. Turn Left on Hornaday Rd, then take a quick right on Nicholas Rd. Our office is located on the left in Gate City Commons, across the street diagonally from the Guilford-Jamestown Veterinary Hospital.
From High Point

- Via Indiana Ave

Take Eastchester Dr./NC-68 headed Northeast towards Greensboro. Take a slight right onto W Wendover Ave, continuing about 3 miles until you reach Guilford College Dr. Use the right lane to take the Guilford College Rd ramp to Jamestown headed North. Take a left at Hornaday Rd, then a quick right onto Nicholas Rd. You'll find our office on the left hand side inside Gate City Commons.
Book Your Free Consultation with our Award-Winning Orthodontic Team Today!
---